Meet APT43, the newest North Korean threat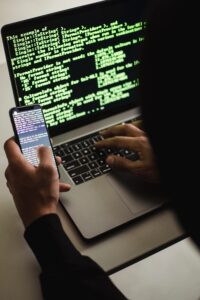 source: Axios, contributed by FAN Bill Amshey | image: pexels.com
Researchers have identified a new state-backed hacking group in North Korea: APT43.
Driving the news: Mandiant, a threat intelligence firm owned by Google, said in a report today that APT43 has been engaging in espionage campaigns to support the North Korean regime.
APT43 also appears to target cryptocurrency firms and services and uses the profits to fund its espionage operations, the report states.
The group typically targets organizations in South Korea and the United States, with a special focus on government, business services, manufacturing and education and research groups.
The big picture: Mandiant has "moderate confidence" that APT43 is specifically linked to North Korea's foreign intelligence service.
Mandiant has been tracking this gang's activities since 2018, and today's report officially elevates the group to an official state-backed hacking group.
Of note: Other companies refer to the group as "Kimsuky" or "Thallium" in their reports. Each cyber research firm uses its own naming conventions for identifying hacking groups.
Details: APT43 engages in two types of cyber activity: Spear-phishing email campaigns to harvest specific targets' credentials and high-value research, and cryptocurrency firm hacks to get funds for its own operations.
In the spear-phishing attacks, APT43 poses as reporters and researchers to trick employees at U.S. defense and research organizations, as well as South Korea-based think tanks, into clicking on a malicious email link or responding with key intel.
APT43 has been seen using cryptocurrency services to launder stolen currency, suggesting the group has been involved in the string of recent attacks.
Threat level: Unlike other state-backed hacking groups, APT43 has yet to be seen exploiting critical, unknown vulnerabilities in systems.
However, the group continues to maintain "a high tempo of activity" and has collaborated with several North Korea state-backed hacking groups.