SPY SITES OF WASHINGTON, DC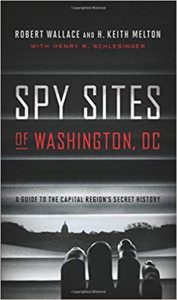 "Superb! The history lesson that we never learned until now!"
"An uncommon look at the clandestine world…"

of dead drops, covert meeting places, and secret facilities ― a constellation of clandestine sites unknown to even the most avid history buffs. Until now.
Washington, DC, stands at the epicenter of world espionage. Mapping this history from the halls of government to tranquil suburban neighborhoods reveals scores
SPY SITES OF NEW YORK CITY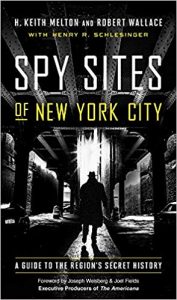 ---
"Superb! The lesson that we never learned!"
Spy Sites of New York City takes you inside this shadowy world and reveals the places where it all happened.
Through every era of American history, New York City has been a battleground for international espionage, where secrets are created, stolen, and passed through clandestine meetings and covert communications.
the official guide to spy sites of manhattan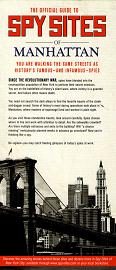 ---
"A 'must have' when visiting NYC spy sites!"
The map provides a fast, easy-to-read reference to many of Manhattan's major espionage locations. Ideal for the on-the-go visitor, each site is pinpointed along with concise descriptions of operations and operatives. Whether you're in the Big Apple for just a few days or several weeks, this map is a gem!
SPY SITES OF Philadelphia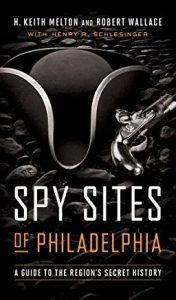 "It is an important resource for students of our history and heritage…."
Philadelphia became a battleground for spies as George Washington's Patriot army in nearby Valley Forge struggled to survive the winter of 1776-77. In the centuries that followed ― through the Civil War, the rise of fascism and communism in the twentieth century, and today's fight against terrorism ― the city has been home to international intrigue and some of America's most celebrated spies.
Ultimate Spy

"An excellent compendium of espionage gadgets"
Ultimate Spy is the insider's guide to the secret world of espionage.Peek inside the covert world of espionage — its history, high-tech spy gadgets, and aspects of spycraft from surveillance to assassination. Ultimate Spy also includes information on what it takes to be a spy: how spies are recruited, the training they receive, and tricks of the trade.
spycraft

"I have been glued to this book since it arrived!"
Spycraft tells gripping life-and-death stories about a group of spytechs—much of it never previously revealed and with images never before seen by the public.
An unprecedented history of the CIA's secret and amazing gadgetry behind the art of espionage. In this look at the CIA's most secretive operations and the devices that made them possible,
the official CIA manual of trickery and deception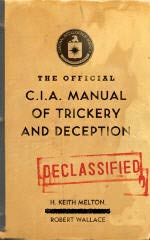 "For those interested in the "tradecraft" employed by spies in the twentieth century, a goldmine."
" If, like me, you like old Cold War spy stuff, then you will enjoy it."
The Official CIA Manual of Trickery and Deception is now available to the general public. An amazing historical artifact, this eye-opening handbook offered step-by-step instructions to covert intelligence operatives in all manner of sleight of hand and trickery designed to thwart the Communist enemy.
Once a top-secret training manual for CIA field agents in the early Cold War Era of the 1950s,
Nine from the ninth

" An important experience of life!"
Nine From The Ninth. They served with the Ninth Infantry Division in the Mekong Delta. Rangers Bob Wallace and Paul A. Newman depict moments of joy, friendship, and surprise mixed with terror, anger and hate while serving with Co. E, 75th Inf. (Rangers). This book will make you reevaluate Vietnam and the boys who served there.
Thirty years after the Vietnam War, three soldiers collaborate with three short stories each to create
Widow Spy

"An excellent compendium of espionage gadgets"
Spy is the first hand account of a true Cold War spy operation in Moscow, told exclusively by the CIA case offiicer who lived this experience. She was one of the first women to be assigned to Moscow, a very difficult operational environment. Her story begins in Laos during the Vietnam War where she accompanied her husband, a CIA officer. She describes their life in a small city in Laos, ending with the tragic death of her husband.