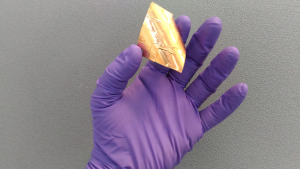 Harvesting Energy as you Move: The Future of Wearable Technology
source: azonano.com
contributed by Artemus FAN, Steve Jones
EPSRC Doctoral Prize Fellow, Dr Ishara Dharmasena, speaks to AZoNano about their groundbreaking triboelectric nanogenerator (TENG) technology that has the potential to convert our movements into electricity.
How did you begin your research into energy harvesting technology?
I was interested in renewable energy technologies and their impact on our lifestyle and the environment since my undergraduate years back in Sri Lanka. However, it was during my PhD project at the University of Surrey that I started researching energy harvesting technologies, specifically those that have the potential to convert human motion into electricity such as the triboelectric nanogenerator (TENG) technology.
Following the completion of my PhD project, I started TENG energy harvesting activities at Loughborough University, focusing on the design and application aspects of TENGs toward powering the next generation of portable and smart electronics.
What are triboelectric nanogenerators (TENGs) and how are they revolutionary in the energy industry?
Triboelectric nanogenerators (TENG) are small-scale energy generators that can convert the energy from movements in our surroundings (e.g. human motion, machine vibrations, vehicle movements, wind, and wave energy) into electricity.
These generators work based on the combination of two common effects – "triboelectric charging" and "electrostatic induction". Triboelectric charging or static charging is typically an undesired effect we experience in everyday life. Static charging is the reason why a balloon rubbed on our hair can stick to a wall or attract small pieces of paper, while it also causes lightening, and, clothing to stick to our skin on a dry day.
Continue reading "Harvesting Energy as you Move: The Future of Wearable Technology" →