No More Needles for Diagnostic Tests? Engineers Develop Nearly Pain-Free Microneedle Patch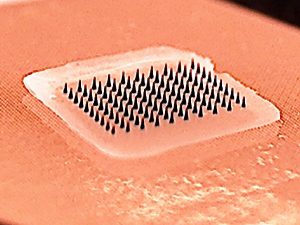 source: scitechdaily.com
Nearly pain-free microneedle patch can test for antibodies and more in the fluid between cells.
Blood draws are no fun.
They hurt. Veins can burst, or even roll — like they're trying to avoid the needle, too.
Oftentimes, doctors use blood samples to check for biomarkers of disease: antibodies that signal a viral or bacterial infection, such as SARS-CoV-2, the virus responsible for COVID-19, or cytokines indicative of inflammation seen in conditions such as rheumatoid arthritis and sepsis.
These biomarkers aren't just in blood, though. They can also be found in the dense liquid medium that surrounds our cells, but in a low abundance that makes it difficult to be detected.
Until now.
Engineers at the McKelvey School of Engineering at Washington University in St. Louis have developed a microneedle patch that can be applied to the skin, capture a biomarker of interest and, thanks to its unprecedented sensitivity, allow clinicians to detect its presence.
The technology is low cost, easy for clinicians or patients themselves to use, and could eliminate the need for a trip to the hospital just for a blood draw.