source: fastcompany.com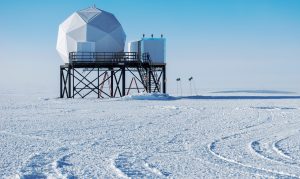 Each year, roughly 40 people choose to spend winter at the South Pole. Here's what they can teach you about handling a cold, isolated COVID-19 winter.
As temperatures fall over the U.S. and COVID-19 infection rates continue to spike, the prospect of an isolated winter looms. Fewer daylight hours, separation from friends and family, and limited options for excursions and entertainment make the coming months seem bleak.
However, each year, a group of roughly 40 people plunge themselves into frigid temperatures, darkness, and isolation. And they do it by choice. In a routine called "winterovers" at the South Pole's IceCube Neutrino Observatory, this international group of scientists keeps the first-of-its-kind station running during the brutal winter months, when the average temperature can be -80 degrees Fahrenheit. The observatory uses the South Pole's ice to observe subatomic particles called neutrinos, which provide information about cosmic events such as exploding stars and phenomena such as dark matter.
Continue reading "What South Pole scientists can teach us about surviving a long, dark COVID-19 winter" →