The DEA is using Apple's AirTags for surveillance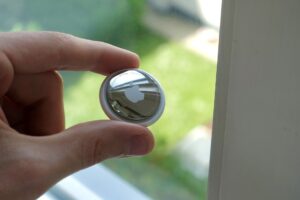 source: imore.com | image: pixabay.com
It's the first time a federal agency has used the tracker for surveillance.
A new report says that the DEA used an AirTag for surveillance in anti-drug operations last year, in what is believed to be the first instance of a federal agency using the tracker in such a manner.
According to Forbes(opens in new tab), border agents intercepted two packages from Shanghai, China, in May of 2022, which were found to contain a pill press that is used to turn powders into tablets. "Believing that they were destined for an illegal narcotics manufacturer", the DEA stepped in, and rather than swipe the goods, instead placed an AirTag inside the device so they could track its whereabouts.
A warrant seen by the outlet reveals what "appears to be the first known case of a federal agency turning Apple's location-tracking device into a surveillance technology."
AirTag law enforcement
The report claims that there was no reason given for using an AirTag over any other kind of tracker, simply that the DEA needed "precise location information" that would "allow investigators to obtain evidence about where such individuals store drugs and/or drug proceeds, where they obtain controlled substances, and where else they distribute them."
One expert told the outlet that the DEA "may have been testing" the device for use as a tracker because other such devices the police use are unreliable. Apple's AirTags have a very long battery life and rely on the Find My network powered by iPhones around the world for their location data. As such, you can find any AirTag provided it's in the proximity of an iPhone, which given their popularity is highly likely. This is a feature that even the best AirTag alternativescan't match.
However, the report notes that an AirTag was an "unusual choice" because they contain strong antitracking measures, alerting users when an AirTag they don't own has been following them and playing a sound to help them find it. The report says it is unclear whether using the AirTag was successful in the operation, only that the agency was given 45 days within the District of Massachusetts and any other state to use it.